Date/Time
Date(s) - 18/04/2015
7:00 pm - 11:30 pm
{has location}
Location
Headingley Golf Club
{/has_location}
Category(ies)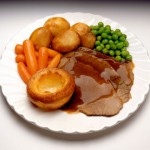 We hope you will join us on Saturday 18th April 2015 for our 149th Anniversary Dinner at 'Headingley Golf Club'.  This is a new venue for the dinner in beautiful surroundings for you to enjoy this special evening.  Book now so as not to miss this prestige event…..
Last year we had a splendid evening of good food and drink rounded off by an excellent talk by Sheila Dyson – intrepid aviator who entertained us with her illustrated talk on her flight to Australia in a light aircraft.
Ladies, partners and guests are all welcome at this prestigious dinner at which we welcome the Lord Mayor of Leeds, our Honorary Chaplain and representatives of kindred associations.  Our guest speaker for this evening will be Duncan Jagger.
We have a delicious menu this year whilst managing to hold down the ticket cost at only £25.00 per person.
As next year we will celebrate with the 150th Anniversary Dinner council have decided to offer a free ticket for next year to members of the Leeds Association of Engineers who attend the 149th dinner in April of this year. Don't miss out on this special offer…..
The menu for 2015 can be inspected here:-  2015 Dinner Menu
Tickets are Now Available from the Dinner Secretary, Alex Rogers.  You can contact Alex by email (preferred) by using the Contact Page in the pull down menu above (headed 'Contact Website Editor') or by clicking this instant link:-  Contact Dinner Secretary
Alternatively you can contact Alex by telephone:-  0113 250 5539
Please note that as in previous years we require your choices of Starter, Main Course and Dessert in advance, so please have these ready when you book your tickets…..
You can read a report and see photographs of last year's dinner using this link:   2014 Annual Dinner
Come along for another great evening……. Cheers !
The Golf Club website can be viewed here :  http://www.headingleygolfclub.co.uk