Map Unavailable
Date/Time
Date(s) - 26/03/2015
7:15 pm - 9:00 pm
{has location}
Category(ies)
.
Tonight, by popular request ! we have our very own Barrie Yates – Vice President of the Leeds Association of Engineers striding up to the rostrum once again to give us another talk, this time about a man who changed the lives of the people of Victorian London. It is about the magnificent work carried out by the largely unsung Victorian Hero – Joseph Bazalgette.
Barrie's own overview follows…
JOSEPH BAZALGETTE AND THE GREAT STINK
In London in the 1850's it became  impossible for Parliament to work due to the smell from the open sewer that the Thames had become, known as the 'Great Stink'. Action was taken that London still benefits from today.  Bazalgette not only installed many miles of new sewerage pipes and infrastructure, he  redesigned much of London, and  thousands of deaths due to Cholera were saved as well.  Oh, and did I mention that in between he sired eleven children?   Truly, a Super Hero!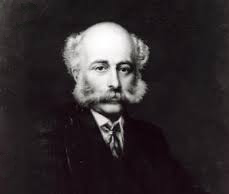 By the way….. The picture is of Joseph Bazalgette and not Barrie Yates… (As if any of you needed telling….)
If your stomachs have survived Barrie's graphic descriptions of London's sewers we will retire afterwards to a local hostelry !
Editor