Date/Time
Date(s) - 17/10/2013
7:15 pm - 9:00 pm
{has location}
Location
Leeds University - Lecture Theatre 'B'
{/has_location}
Category(ies)
Prestige Lecture by Nigel MacKnight – Team Founder and Craft's Driver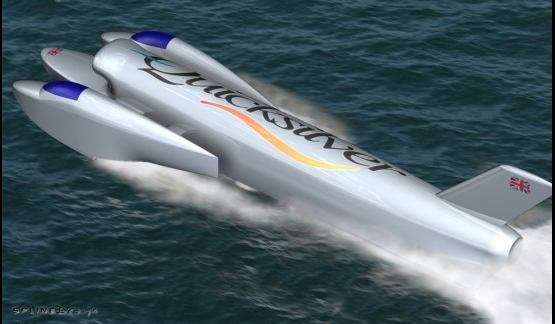 The quest to go faster on water has challenged both man and machine for centuries. Whether for trading, waging war, or simply winning a coveted trophy, the desire for higher speeds has been relentless down the ages.
Modern-day challengers have a clear benchmark against which to measure their skill and ingenuity. The World Water Speed Record is the pinnacle of sporting achievement on water – a compelling contest by man and machine, played out on a backcloth of wind and wave, distance and time.
The World Water Speed Record has a long and colourful history. Previous holders and challengers have included the American inventor Alexander Graham Bell, the fabled British soldier and author "Lawrence of Arabia", and the legendary English "speed kings" Sir Malcolm and Donald Campbell with their iconic Bluebirds.
Quicksilver is a new boat for a new generation, inspired by the past. We are striving to extend the reach of human endeavour and advance Britain's technological achievements on the world stage.
Nigel MacKnight, the team founder and craft's driver, is coming along to tell us all about this exciting challenge….
Note ! This prestige lecture is to be held at the University of Leeds and not at our usual lecture venue.
(Extract courtesy of Quicksilver website)
Find out more from the Quicksilver website:   www.quicksilver-wsr.com