On Saturday 16th October 2021 we visited 'Whistlestop Valley Railway' 
The event was originally proposed by Andrew Kibler and arranged by his friend Neil Cobbold who is a volunteer at the railway. The weather was kind and so the members and their guests enjoyed the afternoon on this well organised event.
Our visit comprised two rides on the 15″ narrow gauge railway from Clayton West via Skelmanthorpe terminating at Shelley station. There we were able to see our locomotive 'Hawk' being turned on the turntable to be ready for the return trip to Clayton West 15 minutes later. The journey takes approximately 25 minutes each way.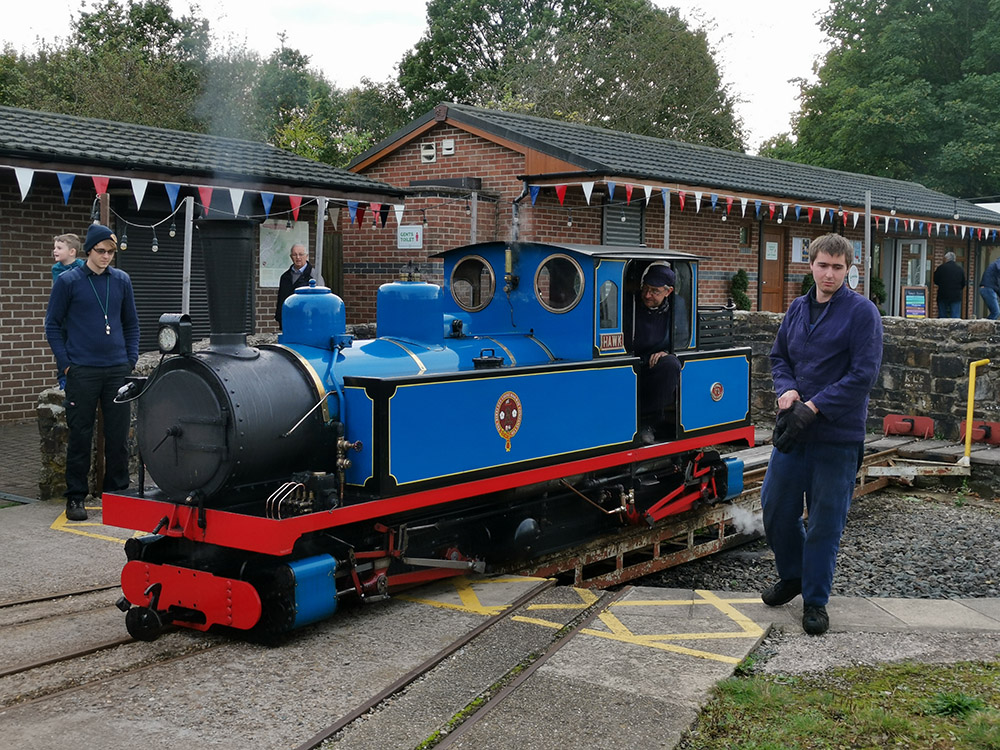 Following our return ride Neil and his colleagues gave us a tour of the shed and workshops, giving a detailed insight into the running of the railway and in particular of the upkeep and maintenance of the locomotives.
Our shed tour was followed by a Powerpoint presentation by volunteer Robert Cockayne who related the history of the line right up to the present day. We enjoyed a large spread of snacks, sandwiches, tea and coffee during the presentation.
Our President Ross Town led a vote of thanks to Neil and his colleagues for what had been a splendid afternoon and early evening.
Robert Cockayne emailed Andrew with this message…
"We do hope that you all enjoyed your visit to the Railway on Saturday 16th October and we look forward to seeing you here again soon. As requested, I enclose a copy of my notes for the presentation……  The notes are not a complete record of the slides as they were meant to be an "aide memoire" for me to give more information to you."
Best wishes,
Robert Cockayne (volunteer)
He kindly attached his notes (in PDF format) for members to inspect at their leisure. You can download Robert's notes here:- Presentation Notes
Here are a couple more photos taken on the day….
If you need more information about the attraction click here to open their website in a new tab:-  Whistlestop Valley Railway
There is something for all the family, especially the youngsters, at Whistlestop Valley Railway so do pay a visit for a fun day out….
.