The Leeds Association of Engineers has links with other institutions and societies in the area and we are invited to attend certain lectures as their guests.
The Institution of Mechanical Engineers (IMechE) Automobile Yorkshire Section invited members of the Leeds Association of Engineers to an evening lecture entitled:-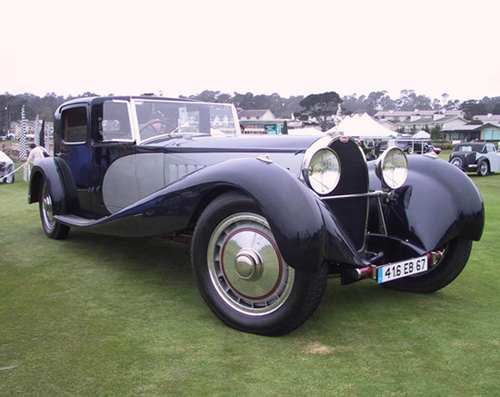 'The History of Bugatti Cars'  held on Tuesday 6th November 2012 at the University of Leeds in the Department of Mechanical Engineering.
This talk looked at the development of Ettore Bugatti's cars, and also his aero engines, boats and railcars over the period 1897 to his death in 1947.
The IMechE had an event poster at the following webpage: –   Event Poster
A member's report about the lecture from Barrie Yates…
"On Tuesday the 6th November Alex Rogers and I attended a lecture by Richard Day, Curator of the Bugatti Trust. He talked for two hours without notes and gave a  wonderful insight into the history of this most ingenious designer.  Bugatti is of course best known for his series of racing cars, and most of you will be familiar with the Type 35 which had a fabulous run of wins.  He was in many ways one of the first 'Industrial Designers' and in his lifetime designed Rail Cars, Road Cars, and  many innovative engines and also at the end of his life this aeroplane.  (See below).  This never flew but if it had it would have been the fastest in the world in 1937.  Anyway it caught my imagination and I am pleased to tell you that there is a group in the USA building a replica which will be airworthy so we shall see if it is a good as it looks.  Do have a look on the Facebook link to see the progress."
Barrie J Yates