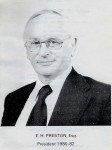 We are sorry to hear of the passing of Ernest Preston on Friday 28th January 2011.
Ernest was a long standing member and council member of the association and joined in 1967, being President from 1980 to 1982.
He was the Works Engineer at Doncasters Monkbridge of Leeds and moved from Yorkshire to Wales to convert an old cottage in Blaenau Ffestiniog with his wife Joan, and get involved with Welsh narrow gauge railways. Always active in his retirement, he was mad keen on steam locomotion.
Joan passed away some time ago and Ernest went on to marry Peggy, his long suffering personal secretary, who lovingly put up with his railway hobbies, and his old cars. What a nice kind chap Ernest was, we shall miss him.
We send our condolences to his family Peggy, Richard and Ernie (John).