Unleash the Bloodhound: Rocket that could propel a British car to 1,000mph to be ignited for first time…….
The pencil-shaped car is 12ft long and weighs 992lb
It is expected to generate the combined output of 95 Formula 1 cars
The rocket that could help a British team smash the world land speed record is set to be ignited for the first time.  The team behind the Bloodhound will fire up the 1,050mph car's complete rocket system for the first time on Wednesday 3rd October at Newquay Cornwall Airport.  Data and video will be streamed to engineers, students and media in an adjacent building and it will also be streamed live on the internet.
A soldier cycles past the Bloodhound at the Wellington barracks in central London. Its rocket engine will be fired for the first time on 3rd October.
The record-breaking speed attempts will be made on the Hakskeen Pan, Northern Cape, South Africa, by 2014.  The Bloodhound project aims to design and build a vehicle capable of shattering the 1,000mph mark, leaving the current record of 763mph in its dust.  It is powered by an 800bhp engine in the middle, a Typhoon jet fighter's engine at the rear and a Falcon rocket attached to the top.  The Bloodhound is described as the largest rocket car of its kind to be designed in Europe and the biggest rocket test in the UK in 20 years.
Chief Engineer Mark Chapman said 'Pretty much anything we get out of Newquay will be a success.  It is unusual that the public are seeing a rocket very early in development. When you see this thing work or fail it will be the first time we see it work or fail.  The worst thing that could happen is nothing could happen, but that also lets us know what else has failed.'  He admitted the car could 'partly explode, but that was all part of the development test'.
The project's driver hopes it will inspire a generation of young people.  How it will work: The Bloodhound project, backed by the Ministry of Defence, aims to smash the land speed record.  The man behind the wheel of the rocket-propelled machine – Wing Commander Andy Green from the Royal Air Force – hopes children will become scientists and mathematicians after watching him power to 1.4 times the speed of sound.  The 50-year-old former Phantom and Tornado pilot holds the record after he drove the Thrust Supersonic car to 763mph in 1997.  'Now 15 years later, we're running an education programme called Bloodhound to break that record and share the technology with a whole generation of young people,' he said.  'This is much bigger than just another land speed record.'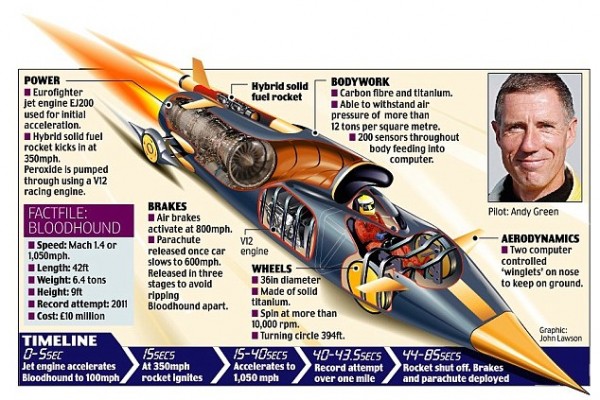 Powered by a Typhoon jet engine and a hybrid rocket, the RAF pilot will call on his flying experience to control the vehicle, which is much more like a fighter jet than the average saloon car.  Wg. Cdr. Green added: 'All of the technology we have to develop, it's not commercially sensitive, it's not militarily sensitive, there's no competition because there are no other Bloodhounds in the world.  'We can share all of it, and that gives us the ability to reach out to a generation of young people to give them something iconic, exciting and simple – like driving in a straight line – and look at the science, the technology, the maths, the environmental science.  'The whole project lends itself to the world's most exciting science and technology lessons.  'That is the legacy for Bloodhound.'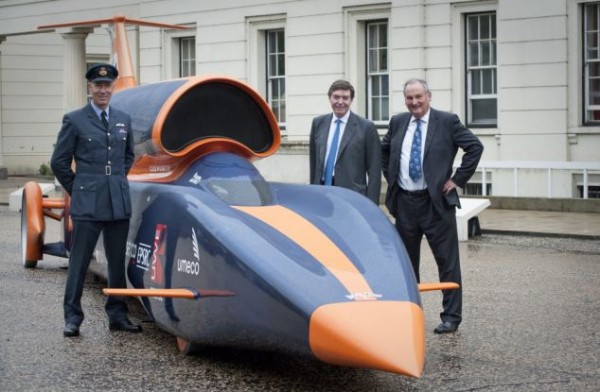 Driver Wing Commander Andy Green, left, Defence Minister Philip Dunne, and Bloodhound Director Richard Noble alongside the Bloodhound
The Ministry of Defence is backing the project, and Whitehall chiefs hope young people will be inspired to get involved in science, technology, mathematics and engineering.  A team of five REME (Royal Electrical and Mechanical Engineers) experts will help build and maintain the car over the next two years in the UK, and be on hand during the record attempts in South Africa next year and in 2014.  Philip Dunne, Minister for Defence equipment, support and technology, said nurturing engineering skills in youngsters is vital to British industry, and the project is a good opportunity for the Army to share its experience and skills.  'That experience will feed directly back into the front line as they progress through their Army careers," he said.  'Today's announcement builds on the Royal Air Force's already considerable involvement with the project, through Wg. Cdr. Green and the retired Typhoon jet engine that will power Bloodhound.'
Richard Noble, the project director of Bloodhound, said: 'We are delighted that the MoD and REME will be joining us and sharing in this unique adventure.  'Their young engineers have great skills and attitude and will make a tremendous contribution to the building and running of the car.'
Go to the Bloodhound website…..   www.bloodhoundssc.com