Barrie Yates – LAE Vice-President – has advised the following information which should be of interest to members…
This is advance notice of a lecture entitled  'Putting John Harrison in his place'.  It is not a Leeds Association of Engineers lecture but is part of the programme of the Leeds Philosophical and Literary Society.     Link:-  Leeds Phil & Lit Society
The lecture about the work of renowned clockmaker John Harrison will be given by Dr. Richard Dunn and is to be held on Thursday 23rd January 2014 at 7.30 p.m.
At the time of posting this information we understand that LAE members are welcome to attend the lecture.
The venue is the Leeds City Museum, Millennium Square, Leeds LS2 8DH.  Please note that this venue is different from that published earlier.
Here is a flyer with full details………   Poster – Flyer – Harrison Lecture
Barrie tells us that our friend and association member Bob Bray of Sinclair Harding is interested in attending and is in the process of building a full size replica of a 'Harrison H1'.
John Harrison
John Harrison (Born 3rd April 1693– Died 24th March 1776) was a self-educated English carpenter and later a clockmaker. He invented the marine chronometer, a long-sought device in solving the problem of establishing the East-West position or longitude of a ship at sea, thus revolutionising and extending the possibility of safe long distance sea travel in the Age of Sail. The problem was considered so intractable that the British Parliament offered a prize of £20,000 (comparable to £2.66 million in modern terms) for the solution.
It took Harrison five years to build his first Sea Clock, or 'H1'.  He demonstrated it to members of the Royal Society who spoke on his behalf to the Board of Longitude. The clock was the first proposal that the Board considered to be worthy of a sea trial. In 1736, Harrison sailed to Lisbon on HMS Centurion and returned on HMS Orford. On their return, both the captain and the sailing master of the Orford praised the design. The master noted that his own calculations had placed the ship sixty miles east of its true landfall which had been correctly predicted by Harrison using his H1 Sea Clock……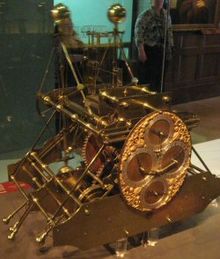 Harrison came 39th in the BBC's 2002 public poll of the 100 Greatest Britons.
Lecture Meeting Information courtesy of Barrie Yates – LAE Vice-President