'QUICKSILVER' NEWS UPDATE:-
Members may recall a lecture given by Nigel Macknight on his project to break the world water speed record. The World Unlimited water speed record is the officially recognised fastest speed achieved by a water-borne vehicle. The current record is 511 km/h (318 mph) – achieved by Australian Ken Warby in the Spirit of Australia in 1978.
The 350mph craft 'Quicksilver' is to be tested on a Scottish loch ahead of a world record attempt. The 40ft long Quicksilver super boat is powered by 10,000 bhp turbofan engine.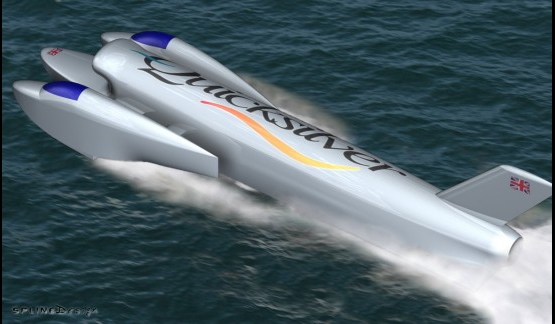 Team Quicksilver have spent 28 years designing and building the vessel  but they have been unable to test it yet and hope to do this on Loch Ness.  The current record of 317.58 mph was set by Ken Warby 38 years ago.
No testing is allowed on Coniston, so the Quicksilver team have been searching for somewhere to trial the technology they have been developing for the 3.5 tonne boat.
Mr. Macknight is due to outline his plan at an event in Inverness next month, which will be held at the town's Eden Court theatre.
He said: 'I am confident we can break the record.
'When a record has stood for the best part of 40 years, it's more likely to be beaten. Technology has moved on a lot in that time.
'You have to have respect for the danger, but I don't think you go through what you are doing with too many nerves because getting the boat designed and built has been a huge job, consuming thousands of hours of my life.
'We are looking for people to come forward from the time of the Cobb disaster.
'It will be a big thing for people in the north of Scotland, particularly for those living around Inverness and Loch Ness.'
Mr. Macknight first began designing and building the boat he hopes to use for the attempt on the world record 28 years ago.
However, by testing the boat on Loch Ness, he will be following in the footsteps of tragedy.
British racing driver John Cobb died on Loch Ness in 1952 when a flaw in the bow of his vessel, the Crusader, caused it to collapse and nosedive when travelling at more than 200mph.
The Quicksilver boat uses a turbo-fan engine (air intake visible in an artist's impression pictured) and has been designed to overcome the stability problems that ended previous attempts to beat the water speed record.
Read more: http://www.dailymail.co.uk/sciencetech/article-3512716/Now-S-Loch-Ness-monster-350mph-superboat-tested-Scottish-loch-ahead-world-record-attempt.html#ixzz4wKZln9wZ
.