Well, for those of you that could not make this Ladies' evening you missed a cracker !  The evening started with a talk from the head chef who presented two of his students who were going to do the live cooking. There were three different types of cooking presentation all based on 'Spherification'. After the chefs showed how it was done volunteers were called to have a go while, much to our delight, samples were brought around to try. Wow ! What a taste sensation.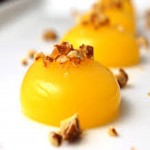 At the end of the cooking demonstrations we were invited to sit at very well presented tables. We then enjoyed a platter of savoury dishes, very similar to a tapas meal. They were delicious but what followed with the sweet platter was just fabulous. If you don't believe me take a look at the picture. I'm not even a pudding man but the flavours were wonderful. Malcolm, you did the organisation proud this evening. It may have been a little more expensive than some other evenings but I believe all will agree it was well worth it.
My wife Charmaine sends her thanks for a great ladies evening but beware you've set a high standard to follow.
Andrew Kibler  –  President  LAE
Here are some photographs from the evening. Thanks to photographers Andrew Kibler and Ian Scholes….
Click on any photo to view a slide show…..