Leeds Bradford Airport
Our local airport has been in the news recently with proposals for a new more efficient and sustainable terminal and plans to increase passenger numbers from around four million per annum to seven million over a period of ten years. The history of the airport is an interesting story…..
On October 17th 1931 'Leeds & Bradford Municipal Aerodrome' opened. Yeadon Airport, as locals refer to it affectionally, owes its birth and subsequent history to the renowned aviator Sir Alan Cobham, seen here below.
Sir Alan John Cobham KBE AFC, became famous as a pioneer of long distance aviation. In 1932 he started the National Aviation Day displays, a combination of barnstorming and joyriding. This consisted of a team of up to fourteen aircraft ranging from old single seaters to more modern passenger aircraft and many skilled pilots. The team toured the country calling at hundreds of sites including Yeadon. Generally known as 'Cobham's Flying Circus' it was hugely popular, giving thousands of people their first experience of flying and bringing 'air-mindedness' to the general population. These tours continued until the end of the 1935 season.
Yorkshire's aviation history however goes further back than the 1930s. The first known Yorkshireman to be genuinely interested in aviation was the Baronet Sir George Cayley (1773 to 1857) of Brompton Hall near Scarborough. He is regarded by many around the world  (maybe apart from the Americans) as the 'father of flight'.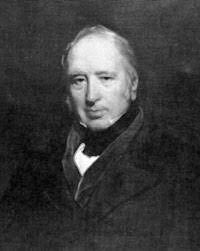 During the early 19th century he built a number of small flying models in his private workshop. Not content with just building small models, in 1804 he built a flying glider with a five foot wingspan. It is believed to be the first aircraft of its size to fly in the UK. In 1848 he built a full size version, complete with movable tail surface. It was a remarkable achievement at the time. The honour of the first manned flight in the UK went to John Appleby in 1853, who covered a distance of some 500 yards. John Appleby was coachman to Sir George and it was recorded that he was highly reluctant to take to the air ! It was not until 1903 when Orville Wright took to the air in the first powered flight….
The first ever records of some sort of 'flying' in the Leeds area were in 1901 when Col. Samuel Franklin Cody (sometimes confused with that other American showman, 'Buffalo Bill') during a visit to Leeds demonstrated his 'Cody war kites' to onlooking government inspectors on Holbeck Moor. There was rapid progress in Yorkshire with the advent of the air pageant in Doncaster and subsequent birth of aeroplane manufacturers in both Leeds and Bradford.
Blackburn Aircraft of Leeds built aircraft that served with distinction. The Blackburn name survived until 1963 after the company was absorbed by Bristol Siddeley and latterly Hawker Siddeley.  The Phoenix Dynamo Company of Thornbury in Bradford manufactured large flying boats and other major aircraft components. With growing interest in aviation in the area it was decided that a permanent aerodrome was needed.
In 1910 Rawdon Meadows was chosen as a site for the first permanent airfield in the area, but this was short lived and due to lack of support flying ceased for some time. With the outbreak of the First World War aircraft production in the region soared with the new Leeds Olympia Works of Blackburn Aircraft at the forefront.
Blackburn had used Roundhay Park lake to test fly some of the seaplanes produced in Leeds.
The famous Blackburn B-2 aircraft (pictured below) was based at 33 Squadron. A landing strip was used at Dawson's Corner between Farsley and Pudsey.
Up to the 1930s nearly all of the region's flying had been from Soldiers' Field at Roundhay Park. Sir Alan Cobham was called in to survey potential sites. Three potential locations were identified.  These included a site at Yeadon, an area at Whinmoor, east of Leeds, and the existing RAF landing strip just west of the village of Farsley at Dawson's Corner. After much deliberation it was decided that Yeadon would be chosen due to its shared proximity to both Leeds and Bradford.
In October 1931 a 60 acre site was established with a landing area some 300 feet by 2100 feet. Sir Alan Cobham returned to the aerodrome in 1932 when he brought his flying circus. As well as thrilling the crowds, he offered pleasure flights for 5s. per time. Passenger flying had always been the longer term intention and so the aerodrome began its first stages of expansion. In 1935 the first true airline service began with a flight by 'North Eastern Airways' with a London to Edinburgh service stopping off at Yeadon and Newcastle. The aircraft used were two 'Airspeed Envoys' (see below).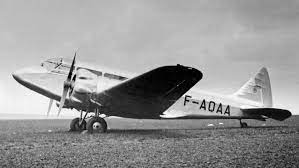 The airport blossomed, but dark times loomed. In 1939 war broke out again. There had been a military presence at the aerodrome since 10th February 1936 with the famous '609 West Riding Squadron' (Royal Auxiliary Airforce) which had been formed there. It was originally formed as a bomber squadron but changed to a fighter role in 1938. Having flown at Dunkirk and through the Battle of Britain, the '609' became the first squadron to reach 100 victories. Their motto was "Tally Ho!"
When the squadron moved south to RAF Middle Wallop in Hampshire the airfield was used to ferry newly built AVRO Lancasters and Ansons to their operational stations. (More on that in a later post !)  The onset of the 1950s led to the airfield being used for several air displays held by the Soldiers, Sailors and Airmen's Families Association  (SSAFA) with the first being held on Whit Monday in 1952.
Since the end of the military association and the return to civil aviation the airport has developed into one of the important regional airports with many scheduled and chartered international flights.
The American Wright Brothers may have been the first to conquer powered flight in 1903, but without the genius of a Yorkshireman almost a hundred years earlier we might not have the local flying heritage that we have today…..
.
x